MonkeyFinger Vines Ape Hanger Yoyo String Review!
Hi guys, I contacted MonkeyFinger Ray and he was nice enough to send me some of their new yoyo string! Without further introduction, let's get on with the review!!!!
Size, Weight, and Texture!!!
Ape Hanger string comes in a familiar length. They come in the length of Kitty string yoyo string, which gives a good amount of room to adjust to your size. The Ape Hanger yoyo string is one of best yoyo string in terms of weight. The string comes with perfect weight, so you can do all types of tricks! Ape Hanger's are really cool in terms of texture. They come out of the bag in a REALLY smooth condition!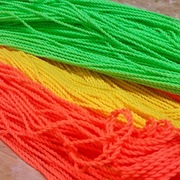 Durability
I found that this yoyo string lasts for a pretty long time. It starts to fray after the first throw, but then stops fraying for a really long time. Some other strings may last for longer, but they have nowhere near the same texture. This string also has some of the best string tension. It stays for a really long time, which can make long yoyo sessions much more fun!
Why are Ape Hangers so good? Or are they bad?
I find that from a competition standpoint, the strings are not as good as some strings 1/2 the price. However, from a lax, smooth style, this string is amazing! The feel, weight, and length are just right for some fast combos, and almost all smooth, flowing styles!
Final
I just want to mention that Ape Hangers have one of the coolest packaging out there! So in the end, these yoyo strings are much better than I expected. Its worth paying $.7 a string any day. MonkeyFinger makes more than competition stuff, they make artwork. And some of the finest out there. So if you are looking for a string to take your tricks to the next level, MonkeyFinger's Ape Hanger yoyo string will not dissapoint!